2022 Sustainability Report: Year Three Update
Wed. Jul 20, 2022 12:00pm - 1:30pm PDT
Event Description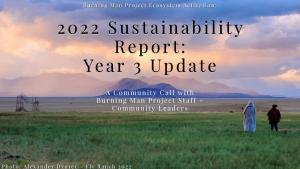 The climate emergency impacts everything we value as humans and as members of the global Burning Man community. That's why we published our 2030 Sustainability Roadmap. Our goals are to handle waste ecologically, be regenerative, and be carbon negative. It's possible that we could address climate change and create a new paradigm if every city, organization, and land project met these three goals. Join us July 20th for a progress update on the three year anniversary of when we published the roadmap. We will host a Zoom call where you can join the chat and stream the call on Facebook Live.
We'll learn from Laura Day about sustainability across Black Rock City; from Katie Hazard and Charismatic Metafauna on sustainability in art; Bryant Tan and Hotel California about theme camps; and Patrice Mackey and Titanic's End about mutant vehicles. We'll hear from Matthew Kwatinetz and Solar Program Manager Matthew Deluge about solar and social enterprise projects in and around Gerlach. Matt Sundquist and Ripple will share updates on LAGI 2020 at Fly Ranch
For a regional perspective we'll hear from Patrick Donnelly, the Great Basin Director at the Center for Biological Diversity. We'll hear from Scott Nichols from Ormat about a geothermal project near Gerlach. For a perspective on climate change adaptation and resilience, we'll hear from Nikki Caravelli, a climate resilience planner from Sacramento. We'll also hear from Autumn Harry. Autumn is the first Numu Woman Flyfishing Guide at Kooyooe Pa'a Panunadu (Pyramid Lake, NV) and is a LAGI juror. For a broad Burning Man perspective, we'll hear from Cultural Fo-founder Will Roger. Christopher Breedlove will MC and touch on the Regional Network, Burners Without Borders, and our regenerative goal.